Interactive Map
Learn about the history of AUB's historic campus, from old buildings to exotic flora and fauna.
AUB Buildings
AUB's campus features Ottoman-inspired buildings dating from the 19th century, retro modern and contemporary architecture.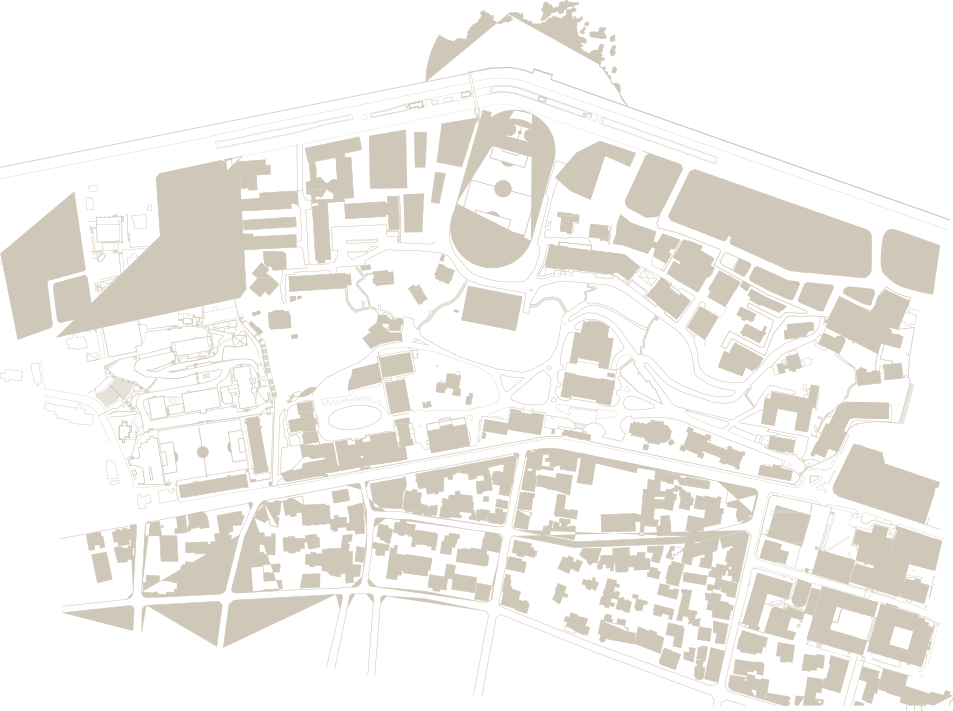 The Elmer and Mamdouha El-Sayed Bobst Chemistry Building was completed in 1930 thanks to a grant from the Rockefeller Foundation, which, impressed with AUB's work, granted the University $250,000 for the improvement of its facilities. The building was later renamed in the wake of generous grant from the Elmer and Mamdouha Bobst Foundation.

Dar El Handasah Architecture Building

The Dar Al Handasah Architecture building was completed in 2007 thanks to a 1.5$ million donation from Dar Al Handasah Consultants' founding partner Kamal A. Shair.

Rafic Hariri School of Nursing Building

Established in 1905, the Rafic Hariri School of Nursing is the Middle East's oldest nursing school. Major changes and a new name came to school when Lebanese Parliamentary Member and AUB trustee Saad Hariri pledged $10 million to name the School and renovate its home.

Suliman S. Olayan School of Business

"Inaugurated on October 13, 2009, the Olayan School of Business features a hi-tech, interactive trading room, dynamic classrooms and labs, and modern open spaces. The L-shaped building that overlooks the Mediterranean Sea from AUB's lower campus was designed by award-winning architectural firm Machado and Silvetti Associates. Its more than 60 faculty and staff offices are interspersed among the graduate floors thereby encouraging faculty collaboration and research. The building also provides specially-designed spaces for the Olayan School's executive education programs, including two 50-person conference rooms, three 60-person common rooms, four 40-person resource rooms, and an auditorium that seats 100 people. Its e-trading room is connected to real-time stock market news, thus allowing professors and instructors to track market indices and stock prices."

Pierre Y. Aboukhater Medical Art Building

Inaugurated in 2004, construction of the Pierre Y. Aboukhater Medical Art Building was funded through a gift from former Chairman and CEO of the Globe Group of Companies, Pierre Y. Aboukhater. The building is meant to serve as an outpatient clinic, offering patients the highest standard of care and using the most advance equipment.

Diana Tamari Sabbagh Basic Science Building

The Diana Tamari Sabbagh was inaugurated in 1975. Its construction was funded primarily by Palestinian businessman Hasib Sabbagh (BA '41, DHL '03) and it was named after his wife Diana. The building stands as a monument to medical education and research in the region; many important medical breakthroughs and regional firsts occurred within.

Samir Zaabri Science Lecture Hall

The Samir Zaabri Science Lecture Hall, first built in 1960, benefited from a complete makeover over in 2010, turning it into a bright, multi-media-equipped hall that can seat up to 232 students, including eight slots that can accommodate the physically disabled.

CCC Scientific Research Building

Completed in 1952, the CCC Scientific Research Building was constructed with the help of a gift from the Consolidated Contractors Company. The building is home to interdisciplinary research programs in engineering and the sciences. In 2007, Hasib Sabbagh and AUB alumnus Said Khoury supported its rehabilitation with an extraordinary gift of $2 million.

The Agricultural Building was erected with a $500,000 grant from the Ford Foundation in 1952. Striking an optimistic tone about the School's future, Dean Samuel Edgecombe, the School of Agriculture's first dean, remarked that the Agriculture Building "will be as good an agricultural and research building as can be found in any land grant college in the United States."

Medical Center (Phase 2) was completed in 1970.

Medical Center (Phase 1) was completed in 1969.

Irani Oxy Engineering Complex

Inaugurated on September 9, 2014, the Ray R. Irani-Oxy Engineering Complex is a research and teaching facility meant to provide AUB students and faculty with the cutting-edge equipment needed for pioneering work in various engineering fields. Ray R. Irani, AUB alumnus, trustee emeritus, and accomplished scientist and businessman, made a generous donation for building's construction.

Completed in 2014, the new Issam Fares Institute for Public Policy and International Affairs building represents a bold departure from the more traditional architecture found on the rest of the campus. It is the first building completed in the Middle East by iconic Iraqi architect and AUB alumna Zaha Hadid, and features her signature, asymmetric, gravity-defying aesthetic.

Inaugurated in 2008, the Charles Hostler Student Center contains health and fitness centers, student activity rooms, and a 300-seat auditorium. The construction of this ultra-modern and environment- friendly student center was made possible by an $11.7 gift from the building's namesake, Charles Hostler, the second largest single grant ever made to the University.

The Raymond Ghosn Building, dedicated to the late Dean Raymond Ghosn, was completed and inaugurated on October 31st 2001 in the presence of AUB President John Waterbury, and other dignitaries, including late Lebanese Prime Minister Rafic Hariri.

Houssamedine Hariri Building

The Houssameddine Hariri Building was inaugurated in 1992. The building's construction was funded by a large gift from late Lebanese prime minister Rafic Hariri. Hariri named the building after his son Houssam, who died in a car crash in Boston, Massachusetts.

Completed in 1975, the Saab Medical Library building was dedicated to the memory of the late Dr. Nicholas Saab. The Library uses the National Library of Medicine classification schedule and the NLM Medical Subject Headings. In 1978, the World Health Organization designated the Library the National Focal Point Library for Lebanon in the absence of a national medical library in Lebanon.

Medical Complex 56 houses the Abu-Haidar Neuroscience Center, established by the Abu-Haidar family. The building housing the Center was constructed in 1969 and renovated in 2006. The Center is the first in the region to provide treatments in the field of neuroscience with a concentration on many neurological specialties such as Neuro-oncology, Alzheimer and Parkinson's disease.

Emile Bustani Hall, also known as the Physics Building, was constructed in 1965.

Constructed in 1962, Kerr Hall is capable of housing around 330 students, besides being a residence for the building headmaster and accommodating six bachelor apartments. In 1984, the Board of Trustees decided to name the building in honor of former AUB President Malcom H. Kerr, a testimony of respect and gratitude for his selfless services to the University.

During a visit to the United States in December 1960, Emile Bustani decided it would be a good idea to build a residence hall for AUB women students in honor of his wife, Laura Bustani. The structure would symbolize his appreciation for both his wife and the university that brought them together.

The Biology Building was constructed in 1961. It is a four-floor building and includes faculty offices, graduate student offices, teaching and research labs, a natural history museum, and a computer lab.

Known as the humanities building since its construction in 1961, Nicely Hall houses the Department of Philosophy, the Civilization Sequence Program, the Institute of Money and Banking, and the Institute of Financial Economics.

Built in 1960, Penrose Hall serves as a dormitory capable of housing 280 students in double bed dorm rooms. The Hall was named in honor of AUB President Stephen B. L. Penrose, Jr. and financed by a grant from USAID.

Completed in 1960, Mary Dodge Hall's original purpose was to provide space and facilities for female AUB student's social and recreational needs. The building was renovated in 1998, and again in March 2014 to house the new WAAAUB Club House. The renovation included room additions, as well as pavement and lighting upgrades. The Hall seats 102 people and is comprised of three floors.

Completed in 1957, the same year as its sister dormitory, Murex Hall, Jewett initially had four floors, but a fifth floor was later added along with an elevator. Mrs. G. F. Jewett contributed funds for the construction of the Hall in memory of her mother-in-law, Margaret Weyerhaeuser Jewett.

Constructed in 1957, the same year as its sister dormitory, Jewett Hall, Murex Hall is the smallest in size among the female residences. It's also the first dormitory to form its own social society, founded in 1995. Its construction was funded by Shell Company, which pledged $200,000 to build three dormitories, each capable of housing some 50 female students.

Bechtel Engineering Building

The Bechtel Engineering building was inaugurated in 1954. Funding for a new engineering building was provided by Stephen D. Bechtel, founder of Bechtel Corporation, and a separate School of Engineering was established in 1951 under the Deanship of C. Ken Weidner.

Completed in 1952, the Jafet Memorial Library houses arts, humanities, mathematics, computer sciences, geology, and social sciences collections. Its construction was made possible by a gift of $250,000 from the son of Nami Jafet, a Syrian Protestant College graduate who immigrated to Brazil and became a prominent industrialist.

Completed in 1931 and funded by the Rockefeller Foundation, Van Dyck Hall is home to the Faculty of Health Sciences, the computer center, computer labs, medical labs, and classrooms. It was named after Dr. Cornelius Van Dyck, a missionary and professor of medicine and astronomy at Syrian Protestant College.

Built in 1914, West Hall was named after Robert Haldane West, a widely respected and admired academic and administrator. Professor James Patch, Chairman of West Hall's building committee, in collaboration with New York architecture firm Parish and Shroeder, designed the building, while Cleveland H. Dodge, son of founding Trustee William E. Dodge, along with a group of young Syrian Protestant College (SPC) staff members, gathered the initial $60,000 needed for its construction.

Completed in 1902, Post Hall was named after George E. Post, a professor of botany and surgery who worked for the American University of Beirut from 1968 to 1908. Mr. Morris Jesup, a banker and philanthropist whom Dr. Post had successfully treated, offered $20,000 for the building's construction, named it in Dr. Post's honor, and allowed him to serve as the building's primary architect.

Completed in 1902, Fisk Hall sits on a parcel of land purchased by Daniel Bliss from the heir of prominent Ottoman statesman Midhat Pasha. The building's namesake, Pliny Fisk, was an early American missionary who arrived in Beirut on July 10, 1823. Constructions costs came to about $20,000 and were financed directly by the University.

Completed in 1901, Main Gate functioned as an administrative building for the first ten years of its life. It contained the president's and treasurer's offices, the gate man's office, rooms for reception of visitors, and later housed the offices the Dean of the Faculty of Arts and Sciences and the general secretary of the Alumni Association.

Completed on May 15, 1900, Bliss Hall currently houses the Department of Mathematics and Computer Science. President Bliss negotiated the sale of the land for the building with the heir of prominent Ottoman statesman Midhat Pasha. The Hall was the site of two construction experiments, namely, the use of 'roebling' flooring methods and stucco, as opposed to finished stone. It was also the first building in Beirut to use reinforced concrete.

Since its completion in 1893, the Old Pharmacy Building has played many roles on the University's campus. First used as a chemistry lab, it was later enlarged to house the hospital's pharmacy and the School of Pharmacy. Sixty years later, a separate chemistry building was completed, which allowed the School of Pharmacy to expand, while the hospital's pharmacy later migrated to the Medical Center in 1970.

Completed in 1891, Assembly Hall originally served as a chapel. Today its excellent acoustics make this building a favored venue for concerts, lectures, and meetings. The Hall was built with a $30,000 gift from Elbert B. Monroe, son-in-law of Frederick Marquand. Monroe also provided the original organ and put the chapel equipment in place in time for 1891 commencement.

Completed in 1885, Ada Dodge Memorial Hall was initially meant to accommodate the growing numbers of students entering Syrian Protestant College's (SPC) Preparatory Department. The Hall's total cost of construction stood at $20,000. D. Stuart Dodge, a professor of modern languages under Daniel Bliss prior to SPC's founding, put up more than £4,000 for the erection of the Hall to be named in memory of his daughter.

Proposed by the Board of Foreign Missions of Presbyterian Church of the U.S.A. in 1881 and completed in 1883, Jesup Hall was not initially part of the AUB campus, but a theological seminary run by Reverend James S. Dennis. The seminary later struggled to attract students and fell out of use by 1891, before being bought by AUB in 1898.

Completed in 1879, Marquand House has been home to every AUB President since Daniel Bliss took up residence there in 1880, with the exception of Presidents Fredric P. Herter, Robert M. Haddad, and David S. Dodge, who steered the university from afar following the assassination of President Malcom H. Kerr. The initial campus plan called for the construction of a president's house, but it was not until New York-based merchant Frederick Marquand donated $5,000 for that purpose and the Russo-Turkish War came to a close upon the signing of the Treaty of San Stefano that construction began in earnest.

The Lee Observatory was among the first buildings erected on the campus of the Syrian Protestant College after its founding in 1866. It is named for Henry Lee of Manchester, England, who gave Sterling Pounds 150 for the building. The predecessor of the present building stood on the same site, which was chosen by Dr. Cornelius Van Dyck, a professor of medicine at Syrian Protestant College, as well as a prodigious translator and author of teaching texts in Arabic. Van Dyck supervised the construction of the observatory during the same period that College Hall was being built.

The first and most storied building on campus, College Hall, more than any other structure, symbolizes the ideals and aspirations of the American University of Beirut. President Daniel Bliss consulted with Robert College President Cyrus Hamlin in Constantinople on the Hall's design, as Hamilin had just overseen the construction of that college's first building. The ground for the main building was broken on November 28, 1871, and William E. Dodge, treasurer of the Board of Trustees, laid the cornerstone on December 7, 1871.