Legacy Families
The AUB family tree has many branches. In fact, multi-generational family (3+) connections are one of AUB's core strengths. We strengthen families and families strengthen us.
Family Hammam
|
3 generations
Hammam family from Shweir, Lebanon, has been associated with AUB since 1880s. When Jirjis Hammam, Dr. Habib Hammam's brother, passed away, AUB obtained his extensive library through a fund established by Bayard Dodge. Dr. Nassib Hammam was instrumental in establishing AUB Alumni Association branch in Tripoli. The third generation contributed towards re-construction of College Hall. The Hammam family continues its association with AUB, most recently through donation of rare books and documents.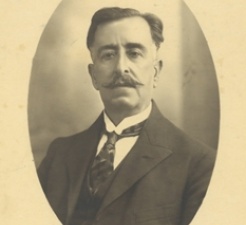 Dr. Habib Najm Hammam was a renowned medical doctor and philanthropist who worked mostly in the village of Shweir, Lebanon, and its environs. He was a close friend and associate of Dr. William Carslow who headed the Evangelical missionary school and medical center in Shweir.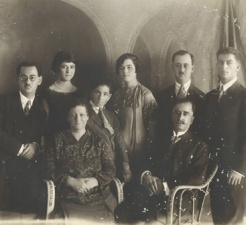 Dr. Nassib Hammam was a writer, poet, orator, philanthropist and avid sportsman. President of the AUB alumni chapter for North Lebanon. Seated right to left: Dr. Habib Hammam (MD 1888) and Mrs. Afifeh Khairallah Hammam. Standing: Dr. Nassib Hammam (MD 1932), Mr. Farid Hammam, Ms. Naifeh Hammam (Nursing), Mr. Emil Hammam, Ms. Najla Hammam, and Dr. Wadi' Hammam (Dentistry 1925). Not in photo: Dr. Adib Hammam (MD 1920)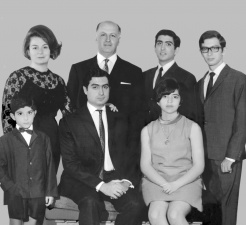 Mr. Habib Hammam had a long career with United Nations and held senior positions at UNICEF. He joined the University of Balamand after retiring from the UN. Consultant in human development and emergency operations. Married to Hanan Tayara (LAU '71). Lives in Rye, New York. Back row from left to right: Mrs. Reda Hammam, Dr. Nassib Hammam (MD '32), Samir Hammam (BE '69), Habib Hammam (BA '66, MA '69). Front row: Nadim Hammam (standing) (BE '84), Nijad Hammam (BE '65) and Dr. Nada Hammam Dabbagh.